Page updated: 10.17.2015
THE G-159 SIMPLY KNOWN AS: 
AEROMARTI
___________________________________________________________________________________________________________________________________________________________________________________________________________________________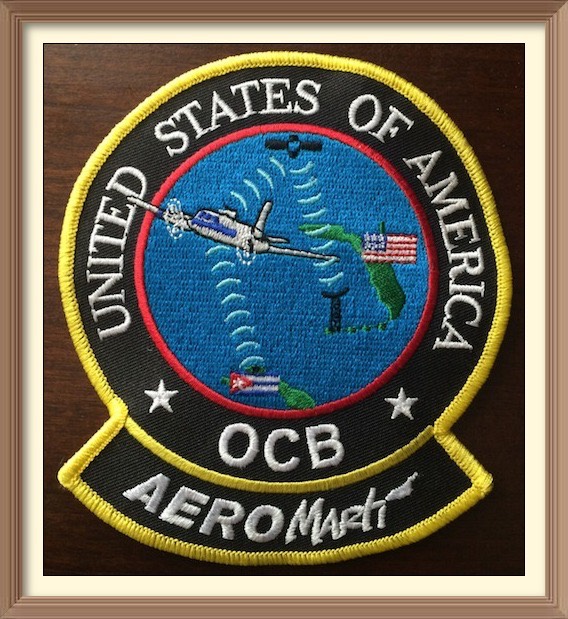 From 1959 to 1971, Serial number 023 flew the owner of Mellon Bank around the country. From 1971 until 1998, 023 was calibrating navigation aids in Austria. It then flew freight for awhile from Miami to Guatemala. Then the big assignment came. Of all 200 G-159's built, C.N. 023(N810CB) call sign Relay 01, had elicited the most investigations, the most negative views, the most protest by any foreign country and the most debate on Capital Hill concerning the use of an aircraft. The "ITU" and the United Nations have discussed this airplane probably more than any other. Every airshow this aircraft participated in drew more people than any other display. Over the course of the 6.5 years it flew, millions of dollars were spent keeping it flying and more millions were spent trying to ground it. Sequestration finally stopped the mission. However, even after the budget cuts and the mission was terminated, it's still creating controversy. While it was no longer flying, it was still being paid for by the U.S. Government to keep in flyable condition. Ironically, CN. 023 was built the same year Fidel Castro took over Cuba.
The U.S. Governments five decade long battle with Cuba has brought forth many projects to help quicken the departure of the Castro brothers. The most controversial project however was Radio/T.V. Marti and the use of an airplane to broadcast. 
Those who were involved with the project know the real story behind all the media's fake stories. They can't talk about it due to security clearances and so forth, but according to those in the know, the airplane was not grounded because it was ineffective, it was grounded because it was too effective.
There were actually 3 G-159 broadcasters. N184PA(097) was the preliminary aircraft first airborne in August 1996. The project had to be rushed because of Fidel Castros unexpected handover of power to his brother Raul. It had rudimentary equipment that was put to work just to flight test the profiles. This aircraft was only used for one month and was converted back to a freighter. Approximately a month later, N197PA(093) later known as N820CB came on line. This aircraft could only transmit on one TV channel (20). A few weeks later, the main aircraft came on line, N810CB (023). The aircraft was delivered with one channel UHF TV (20) capability. A short time later, VHF channel 13 was also added and later, also had FM capability on 93.7  So in effect, the aircraft could broadcast three different systems at the same time. The HF antenna was modified to transmit FM radio. Both N820CB and N810CB had an overhead satellite receiver that was capable of transmitting satellite signals from the Hispasat satellite. The primary method of broadcasting was via satellite signals with programming originating from Miami Florida. Both aircraft had a DVD system as a backup in case of satellite failure which was rare. N810CB became the primary aircraft with N820CB acting as backup. Numerous test were performed to prove the signals could reach Havana and surrounding provinces would receive Grade A cable services.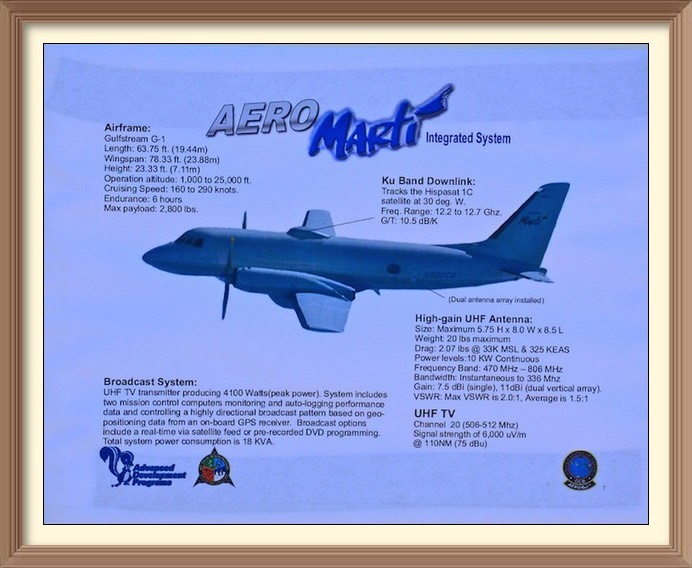 ____________________________________________________________________________________________________________________